8 Best Dehumidifiers to Keep Any Size Room Comfortable 2021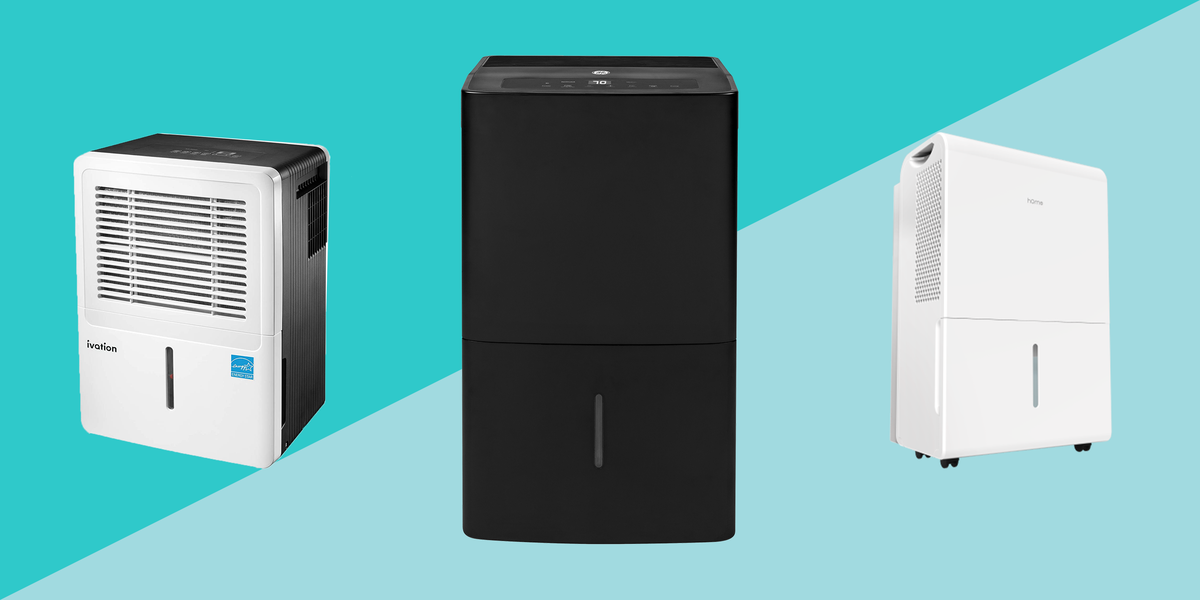 Enduring wet weather is bad enough, but dealing with a damp house is unbearable. Along with interrupting sleep and generally feeling gross, this excess humidity can lead to a buildup of allergenic mold and musty smells in your home. That's where a dehumidifier comes in. The humble device isn't as exciting as some other home improvements, but it can have a huge impact on your quality of life.
A dehumidifier removes excess moisture from the air inside your home, which can be especially humid in the summer. It can make it easier to fall asleep, prevent indoor air quality issues, keep musty odors away, keep bugs away, and just help you feel more comfortable overall.
Relative humidity should be between 30% and 50% during the warmer months and between 30% and 40% during the colder months for maximum comfort, according to the American Society of Heating, Refrigerating and Air Conditioning Engineers. Anything above will be too heavy, making it difficult to unwind.
Higher humidity can also lead to health issues: mold thrives at 60 percent relative humidity and higher, according to the Environmental Protection Agency (EPA), which recommends the use of dehumidifiers in particularly humid spaces.
How to choose the best dehumidifier
Understand your space. A dehumidifier's capacity is usually measured in pints per 24 hours, according to the EPA's Energy Star program, and this figure is crucial in finding the right model. Two factors influence the capacity you will need: the size of the room and the relative humidity. Most small to medium sized rooms need 20-30 pints, while large rooms probably need 30-40 or more. Exceptionally damp or wet spaces will need even more. (Energy Star has a helpful chart explaining the proper capacity.)
Think about energy consumption. Many dehumidifiers use a lot of energy, which means they will cost you on your energy bill. To reduce operating expenses, look for models that are Energy Star certified, which means they are nearly 15% more efficient than other options.
Go for the right extras. You can certainly plug in your dehumidifier and call it a day, but a few upgrades can make the experience much more convenient. Most models allow you to attach a drain hose if you don't want to manually empty the unit every day, but you will need a unit with a pump if you want to send the water down a sink. Automatic humidistats monitor relative humidity and turn off the dehumidifier when the desired level is reached. And filter indicators remind you when to change your filter.
Now that you've mastered the basics, you're ready to choose the right model for your home. Ahead, shop the top rated dehumidifiers you can find online right now.
Advertising – Continue Reading Below
1
Best overall
Frigidaire High Efficiency 50 Pint Dehumidifier
50 pints | Energy Star certified
If you're looking for a dehumidifier to buy for life, this sturdy unit from Frigidaire is ideal. With a large capacity, digital display and washable filter, it's designed for easy use. Better yet, it's one of the few devices to come with an integrated pump, making configuration much easier.
2
Best value
Home Labs Large Room Dehumidifier
35 pints | Energy Star certified
We know, we know: a unit that costs just under $200 doesn't sound like a bargain. But this 35-quart, 3,000-square-foot unit outperforms its price, making it ideal for larger spaces and basements. "I was pleasantly surprised at how quiet the sound is when turned on," one Amazon reviewer said. "The bucket is easy to empty and there is a port in the back that can be used with a drain hose."
3
Ideal for small spaces
Pro Breeze Electric Dehumidifier
9 ounces
This mini dehumidifier is ideal for bathrooms, motorhomes and small apartments. Reviewers (who have left this unit with over 10,000 5-star reviews on Amazon) rave about its quiet design and automatic shut-off. "In a quiet room, I can't hear it on two feet," one said. Although this device is not Energy Star certified, it still consumes much less energy due to its small size.
4
Ideal for medium spaces
Vremi 22 Pint Dehumidifier
22 pints | Energy Star certified
This sleek dehumidifier has one of the highest ratings of any model online. Its simple interface, built-in wheels, and extra-high top speed make it convenient and powerful for rooms up to 1,500 square feet. "The controls are easily understandable and the booklet is very well done", notes a critic. The icing on the cake is its integrated cord holder.
5
Ideal for large spaces
Ivation Large Capacity Dehumidifier
50 pints | Energy Star certified
Need to keep an extra-large space dry? Try that 4,500 square foot dehumidifier, which includes a digital display, hygrostat and washable air filter. "Seems to work great, although very noisy," writes one buyer. "We can really feel the difference when we breathe."
6
Ideal for basements
Honeywell TP70WK dehumidifier
70 pints | Energy Star certified
Anyone looking for a little extra juice should be satisfied by this Honeywell dehumidifier, which has a whopping 70 pint capacity. The power bonus is especially useful in large, damp basements, where this thing really shines. "What sets this device apart is the Mirage front LED indicator," said an Amazon reviewer. "It can be easily viewed from afar."
seven
Best Quiet Dehumidifier
GE ADEW45LY dehumidifier
45 pints | Energy Star certified
As useful as they are, noisy dehumidifiers can still be annoying. Not this one, though: despite its large capacity and three speeds, reviewers say it's nearly silent. "In just one night it filled almost to capacity at lowsays a Walmart shopper. "The unit is very quiet at low temperatures." And did we mention its washable filter and built-in filter indicator?
8
Best investment
LG PuriCare Dehumidifier
50 pints | Energy Star certified
Rounding out our picks, this smart dehumidifier, which connects to WiFi and lets you control it from a smartphone app. Beyond that, it also features a heat-resistant design, an easy-to-monitor water tank, and a built-in pump. "The unit is as quiet, maybe even quieter, than other dehumidifiers I've owned," notes one reviewer.
This content is created and maintained by a third party, and uploaded to this page to help users provide their email addresses. You may be able to find more information about this and similar content on piano.io
Advertising – Continue Reading Below