Munters dehumidifiers help Fairfax London create the finest premium dry aged beef.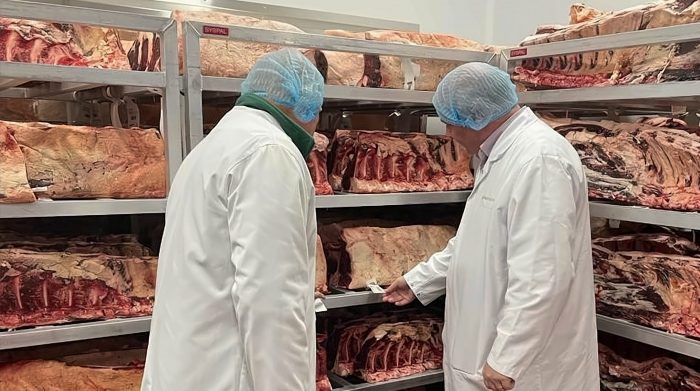 Munters, a world leader in dehumidification and indoor climate control, supplied three MLT800 adsorption dehumidifiers to Fairfax London to create the optimum relative humidity levels for their meat aging rooms.
Part of Fairfax Meadow, Fairfax London opened a purpose-built facility in 2018 with dehumidified ripening rooms by Munters.
"When we designed this deposit, our goal was to have a state-of-the-art maturation facility with a wall of Himalayan salt. This would allow us to create the best premium dry aged beef," says Rob Shears, Sales Manager at Fairfax London.
Following advice, Munters was recommended as "the company everyone is talking about when it comes to humidity control", and Fairfax Meadow was already using Munters equipment at other sites.
The solution
Munters recommended an MLT800 desiccant dehumidifier to dry the beef in what became the first of three ripening rooms. "Each customer has their own unique requirements to create their perfect climate, and here we've suggested 0-2°C and 50-80% relative humidity," says Glen Wilson, senior sales engineer at Munters.
Less than six months later, the demand for dry-aged beef had doubled and the ripening room was filling up. This substantial growth has been attributed to the superior quality of the meat and the precise conditions in which it is aged – thanks to the Munters dehumidifier.
After acquiring a key customer in high-end casual dining, Fairfax London ordered another MLT800 desiccant dehumidifier for its second ripening room which, like the first room, quickly filled.
"There's no point in having two rooms at full capacity," says Rob. It was then that a third MLT800 was purchased for room number three, which was delivered and installed in time to meet the increased demand.
Advantages
With three highly demanded ripening rooms, Fairfax London has been able to significantly increase production and attract additional clients that they previously would not have had the capacity to work with.
By combining the right product, with the right levels of installation, temperature and relative humidity, Fairfax London is able to be a leader in this product category. The ripening rooms have helped them become a premier supplier to the Agriculture and Horticulture Development Board (AHDB) of premium dry-aged beef.
"We specialize in dry aged beef, and with Munters dehumidifiers we can do that with confidence. The product stored in the ripening rooms always comes out perfectly," says Rob.
The company hopes to expand its ripening facility to other parts of the UK and for this "we will only have Munters units, nothing else".
Advantages :
Accurately control relative humidity levels for meat aging rooms
Ensuring proper air circulation and drying capacity in three meat maturing/aging rooms
Help Fairfax London become the AHDB's top supplier for premium dry-aged beef
For the full story, visit munters.com